PlasmaFence™ Technology Destroys Pathogens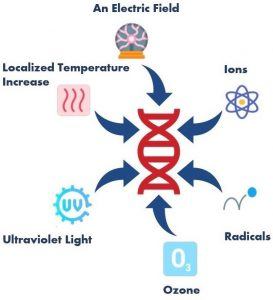 Plasma energy is more than just TV screens
The 6 plasma modalities that kill pathogens are:
Ions
Radicals
Electric Field
Ultraviolet Light
Ozone
Localized temperature increase
Dielectric Barrier Grating Discharge (DBGD), that can be called a plasma curtain, plasma shield, or PlasmaFence™. The cold plasma that is formed between the electrode rods forms a 100% dense curtain, shield or fence that is permeable for air flow and kills all micro-organisms in the flow.
Harnessing Plasma Energy
IPD Products Engineers Specialize in Developing Solutions Using Plasma Energy and Plasma Chemistry
Plasma Energy
Tesla Ball
The Raw concept
Plasma globes are a low pressure dielectric barrier discharge. Plasma filaments are very far from each other. In the use of killing bacteria and viruses, the number and density of the plasma filaments are too few to have any meaningful activity.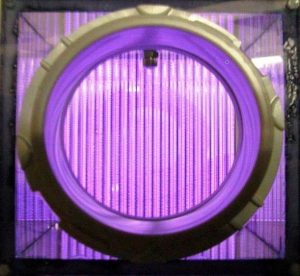 PlasmaFence™
Front View
High Voltage/Low Current
Control of plasma discharge is critical for killing or neutralizing pathogens. High voltages create the six modalities of biocidal activity. The electrodes are close enough so that the plasma discharges overlap and form a unified field. By arranging the discharges in this manner, 100% of the pathogens come in contact with the plasma fields, experiencing the 6 fatal plasma modalities simultaneously. Further, low current usage improves the efficiency and longevity of the system.
PlasmaFence™
Side View
Simple Design – maximum protection
All the air that passes through the system is subject to the plasma fence. Pathogens are killed or neutralized in about a millisecond. There is no need for expensive HEPA filters that require frequent replacing and can promote growth of microorganisms such as mold, then clog.
Air flow in the Ionic Plasma Destroyer is rapid and quiet.